Douglas Hedley: Pythagoras' Cave in Samos
Podcast 1st March 2023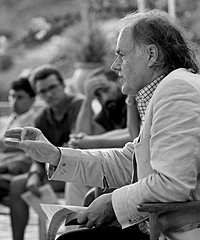 Douglas Hedley is Professor of the Philosophy of Religion at the University of Cambridge. He is the Director of the Cambridge Centre for the Study of Platonism and co-chair of the Platonism and Neoplatonism section of the American Academy of Religion. Professor Hedley's work centers on concepts of imagination, violence, and the sublime, and he has published widely, from early modern philosophy—particularly the Cambridge Platonists—to Coleridge.
Ralston College presents a lecture by University of Cambridge Professor Douglas Hedley on the influential and mysterious pre-Socratic philosopher Pythagoras.
Given in the very cave in Samos in which Pythagoras taught, the brief lecture touches on the philosopher's influence on the Western tradition and the importance of the cave as an imaginative motif. Professor Hedley explores this recurring symbol as a place of birth and rebirth, of contemplation and illumination, and of tremendous inspiration to later thinkers such as Plato and the early Christian scholars.
The lecture took place during the first term of Ralston College's inaugural MA in the Humanities in autumn of 2022.
Education and conversation free from censorship, cynicism, and corruption matter. Ralston College is a place for them to happen, for human flourishing and building anew.